I envy writers who suffer from no selfdoubts:inside the world of graphic novelist Chris Ware
The mind behind Jimmy Corrigan on casting himself as a jerk in his new book Rusty Brown, childhood nostalgia and discovering his distinctive style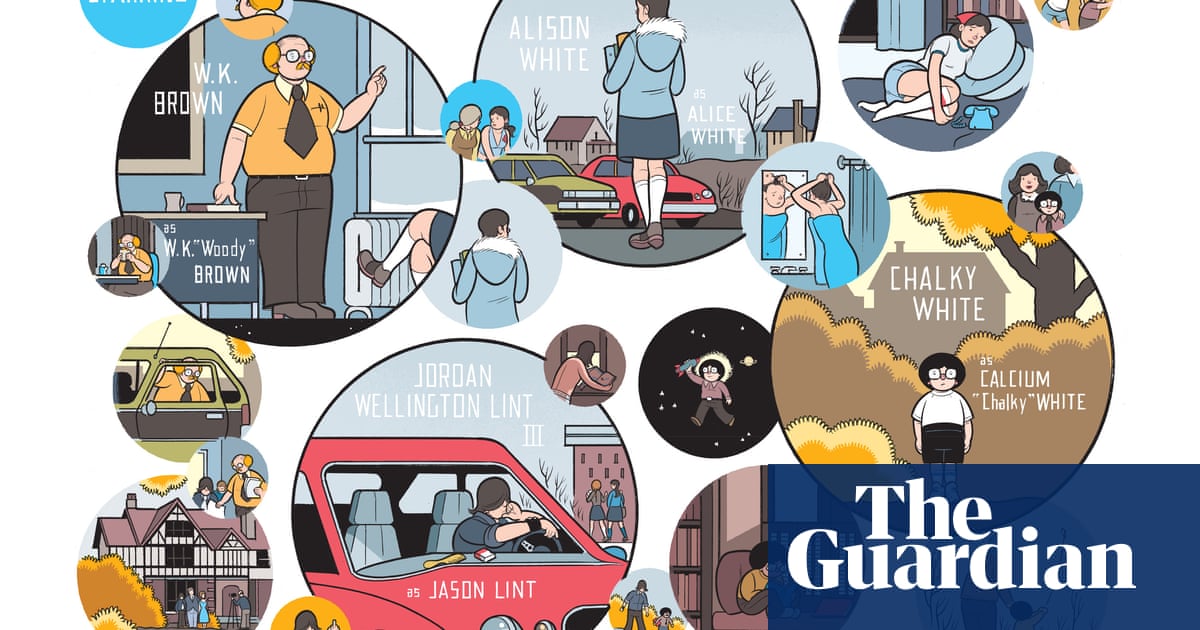 In 2001, the cartoonist Chris Wares graphic novel Jimmy Corrigan: The Smartest Kid on Earth won the Guardians first book award. It was the first time a comic book had won a major UK literary prize. Ware was in that respect, as in others, something of a trailblazer in showing how subtle and complex and serious graphic narratives could be a first advance in their subsequent storming of mainstream literary culture.
Rusty Brown, Wares first graphic novel since 2012s Building Stories, is anchored by the inconsequential events of a single day in a school in Wares hometown of Omaha, Nebraska, in 1975. It tells the interwoven stories of the titular pre-teen bully magnet and a handful of characters with whom his life, however glancingly, intersects. As readers of Ware will have come to expect, its mordantly melancholy and drawn and plotted with extraordinary precision.
When he guest edited a comics issue for McSweeneys in 2004, Ware called comics not a genre, but a developing language. Ahead of the publication of the print instalment of Rusty Brown, we discussed his way of working and where that developing language is now.
Sam Leith: Rusty Brown collects a number of different storylines written over a number of years. How much do you think of it as a coherent single work?
Chris Ware: Id always planned it as one volume, but my irresponsible writing methods got out of hand and I decided that rather than produce a book that would be too heavy to hold, it was better to split it into two books. Besides, paper may no longer exist when I finally get done with the thing, though at least Ill know half of it will actually physically exist somewhere for a little while. Sprawl and complexity are features of my favourite books, from War and Peace to Moby-Dick to Ulysses, and Im aiming for a similar end albeit with thousands of little colour pictures instead of just words.
SL: How do the characters in Rusty Brown and their universe relate to the worlds of your other work? Is there a sort of Ware-verse in which they cohabit?
CW: There is a tip-off in the book that it all connects to Jimmy Corrigan, and though its not apparent yet, also to both Building Stories and two other books on which Ive been slowly toiling. This is all very inconsequential to the turning of the planet, however.
SL: You or someone with your name figures in the book as a character (though, at the time in which the book is set, Im guessing you would have been closer to Rustys age than his). How autobiographical is the book and in which way? What does it do to introduce Chris Ware as a character?
CW: Well, I needed a jerk and I was available. To portray is not to endorse, of course, though on my private novelistic spectrum of human loathsomeness, the character is probably the most immoral and selfdeceiving of anyone in the book, growing out of my own sublimated venal impulses and the imaginings of those in others. For the reader as well as the artist, comics are already something of a paper mirror. So to have a horrible person staring back at me while I draw him, who looks like me but isnt, serves as a useful psychological experiment. It is all in the service of trying to understand the world and, most importantly, to be a better person.
Every generation has its immoralities that culture and custom somehow cushion, and were seeing a much-overdue reckoning of that now; if theres any shred of inadvertent good to the election of Donald Trump, its that he has made us all keenly aware of the fragility of virtue versus the blunt force of deception and domination. It takes considerable effort to be good and almost none to be bad.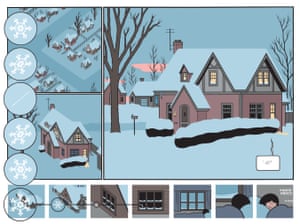 Read more: https://www.theguardian.com/books/2019/sep/28/i-envy-writers-who-suffer-from-no-self-doubts-inside-the-world-of-graphic-novelist-chris-ware